The best

Slackline

Brands
Which are the best Slackline brands is a question, we can tell you in advance, that does not correspond to an absolute truth.
There are many brands, with strengths and weaknesses, some with better equipment for trickline, others more focused on the development of longline and highline gear.
In fact, if we think about the best kit possible, regardless of the the kind of slackline we practice, it is likely that it will combine elements from diferent brands.
The best slackline brands: the classics
Before moving on to those we consider to be the best brands, for either variant of slackline, we just wanted to leave a note about the pioneering brands in the recent history of slackline.
Today, with Landcruising closed and after Gibbon acquired Elephant, most of them remain in operation and deserve to be highlighted.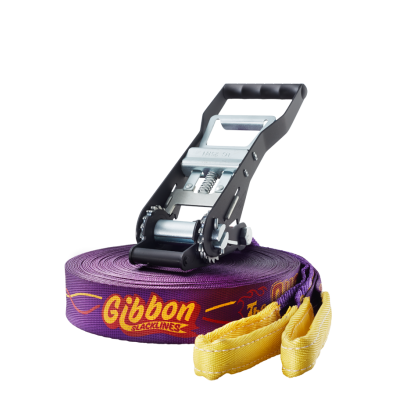 The best slackline brands for beginners?
In this initial phase, when the purpose is to learn how to walk and do some static tricks, the brands are all very similar.
All of them have good beginner kits. From 12 to 30 meters, with 2.5 or 5 centimeters wide, with ratchet or primitive, there is a bit of everything we can choose from.
Whether it's the Elephant Rookie Flash Line, the Gibbon Classic or Funline, the Minimum slackline kit from Slacktivity, or any other basic line from one of the following brands, we will surely be well served:
Gibbon Slacklines
Slacktivity Slacklines
Slack Mountain
EQB
Raed Slacklines
Balance Community
Spider Slacklines
If you feel you could use a litle help, check our article on "How to choose a slackline".
Wich is the best trickline brand?
If Gibbon and Slackline Industries dominated the trickline market a untill a couple of years ago, today things are a little different.
In addition to the disappearance of Slackline Industries, at the moment the brands have very similar solutions when it comes trickline lines performance. Gibbon, Spider, SlackMountain and EQB, have good webbings that would be difficult to distinguish if we tricklined them with our eyes closed.
Elephant Slacklines has not evolved at all. Remains reduced to the Freak Flash Line option, which, although not bad, is much more aggressive to the body than the tricklines of the brands we just mentioned above.
Slacktivity also remains without nothing new, having the Super Jump Line as its best solution. A 3.7cm trickline, super slow but very comfortable to the body.
But there is something that had a great change. With the trickliners asking for longer lines, trickline pulley systems became more popular, strengthening brands as LineGrip Corp, SlackMountain and EQB.
Regardless of the brand, what we suggest for trickline is creating your own kit, playing picking the best quality/price relation and mixing several brands:
The best slackline brands for highlining and longlining?
To answer the question "which are the best slackline brands for   these types of slackline", the list is a lot shorter.
If, on one hand, brands as Gibbon and Elephant do not cover this segment, on the other hand, due to the innovations they introduced to the slackline world and the quality of the gear they continue to develop, Balance Community and Slacktivity Slacklines deserve to be highlighted. They offer solutions for all aspects of the highline and longline, introducing new and amazing developments on a regular basis.
In addition to these two brands, EQB, SlackMountain and  Raed Slacklines also offer quality gear, often with more competitive prices than the previous two.