Project Description
How to choose a
slackline?
When You ask yourself how to choose a slackline there are a lot thing that you may want to consider.
There are many options regarding the lenght, widht, tensioning systems and types of sets.
So, what kind of slackline do you need and what is the right choice for You?
The truth is that the answer will, mostly, denpend on you, what do you imagine yourself doing on a slackline and you goal.
Each model and good and bad things. We will try to explain wich and, in this article, help you to get an answer to the question: How to choose a slackline.
How to choose a slackline?
2,5cm 

Vs  

5cm
12m 

Vs  

15m 

Vs 

25m
Rachet 

Vs 

Primitive
Slackline 

Vs 

Full set
How to choose the width of the slackline? 5cm Vs 2,5cm?
When you have no clue it may appear that a 5 cm slackline is easier and more appropriate for initiation than a 2.5 cm slackline. The truth is that the difference is practically none. The difficulty you will feel will be more related to the length of the slackline and the tension with which it is assembled.
So what are the advantages of each lenght?
5cm slacklines: These are more suitable for people who imagine themselves evolving towards  trickline. Most tricklines are 5cm wide and these lines, because of their wider surface, are friendlier to your body, making the learning tricks process less painful.
If you opt for a more complete kit with slings and schakles, you can use your initiation line to start trickling.
| | |
| --- | --- |
| Dificuldade: | (5.0 / 5) |
| Versatilidade: | (5.0 / 5) |
| Peso: | (2.5 / 5) |
| Average: | (4.2 / 5) |
[/fusion_separator]
2.5cm slacklines: These slacklines generally give a better feel when walking. And for those who want to move in the direction of longline and highline, starting with a 2.5cm line will be an advantage, since in both, highlines and longlines, the lines used have this width. In addition, a 2.5cm line is considerably lighter than a 5cm line, making it ideal to be in your  backpack all the time or taking it in your vacations.
| | |
| --- | --- |
| Dificuldade: | (5.0 / 5) |
| Versatilidade: | (2.5 / 5) |
| Peso: | (5.0 / 5) |
| Average: | (4.2 / 5) |
[/fusion_separator]
There are also intermediate widths, in the 3 centimeters, in slacklines such as the Wingline and Minimum.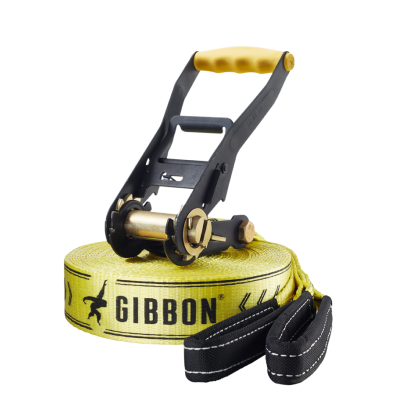 How to choose the Length of the slackline?
When you ask yourself how to choose a slackline, this is one of the main topics to decide on.
First of all, it is necessary to understand that any slackline can be mounted as initialization slackline, since what defines a slackline of initiation is length and difficulty. In other words, you can mount a slackline with 5 meters, whether your slackline is 12, 15, 25 or 30 meters long.
In this regard, you should base your choice on the motivation you have to make slackline. If you think you're going to practice regularly, maybe it's best to buy a 25 or 30-meter slackline. This is because the evolution is quite fast, it is common for a beginner to overcome a 15-meter slackline in a few weeks. When this happens you will want a bigger challenge and if your slackline is 15 meters, you will have no choice but to invest in a longer one.
If you think you will use the slackline very sporadically and you do not know if you will even like the sport, the ideal is to minimize the investment and bet on a shorter and cheaper slackline.
Just remember that some longer or more complete slacklines, at least 15 meters and 5cm, can be used to start trickling at an early stage. Slacklines like Addict, a Surfline, a Experience ou a Allround are good examples.
How to Choose a slackline? Ratchet or Primitive system?
Any beginner slackline involves a tensioning system. Within this range, of the slacklines for those who are starting or learning, there are the ratchet systems and the primitive systems, each of which has aspects in favor and against.
So what are the advantages of each one?
Ratchet systems: ratchet systems are generally cheaper and easier to use because they contain fewer elements and less complex setup. Ratchets are used in slacklines of 2.5 or 5 centimeters wide and are much more versatile than primitive systems, they can be used for tricklines as opposed to primitive systems.
| | |
| --- | --- |
| montagem: | (4.5 / 5) |
| Versatilidade: | (4.0 / 5) |
| Peso: | (2.0 / 5) |
| Average: | (3.5 / 5) |
[/fusion_separator]
Primitive systems: Primitive systems, usually with 2.5cm wide slacklines, have a great  advantage regarding weight, being considerably lighter than ratchet kits.
The big disadvantage is that the setup is not so intuitive and you can get a little confused the first few times you use it. However it is easy to find tutorials on the internet and the process is quite simple to assimilate.
Just take into account that in these kits, where the tensioning system is the webbing itself, 30 meters of line can mean only 25 meters of useful slackline, this is because a part of the line will be used for the system. And yet, this kind of setup is not suitable for trickline.
After all, in time, you will realize that a primitive system, though more complex, is much more pleasant to use than a ratchet. It imposes fewer restrictions on safety and is much lighter, ideal to take with you during the holidays.
| | |
| --- | --- |
| montagem: | (3.5 / 5) |
| Versatilidade: | (3.5 / 5) |
| Peso: | (5.0 / 5) |
| Average: | (4.0 / 5) |
[/fusion_separator]
How to choose a slackline? Basic slackline or Full slackline kit?
There are several options for initiation slacklines, the basics that only include line and ratchet and those that include elements like tree protectors, slings and schakles.
We'll try to explain the purpose of each element to help you choose a slackline.
Basic slacklines: In basic systems the slackline and the ratchet strap have a loop at the end, so that the slackline and ratchet after wraping the anchor point will  pass through the loop.
[/fusion_separator]
Slings and Schakles: With slings and schakles the slackline no longer has to hug the tree and pass inside the loop. The great advantage of this is that there is no friction where the slackline and the loop meet. In this system it is the sling that embraces the tree and the schackle serves as the connector between the loop and the sling. It is a more safe system will guarantee that your material lasts much more. It is highly recommended for trickline and slacklines with lots of tension.
[/fusion_separator]
Tree protectores: these accessories are absolutely key. They protect the trees from your slackline. If you choose a kit without tree protections, arrange anything at home that serves the purpose.
[/fusion_separator]
Backup: Although it is rare to find slackline kits that include security backups, this is absolutely mandatory. They basically consist of a second anchorage between the ratchet and the the anchor point, and serve to ensure that if there is any failure in the equipment, the ratchet is not projected against anything or anyone. This can be done a piece of rope and eventually with the slackline if your not using the full length of it.
[/fusion_separator]
Soft Release: Soft releases are not fundamental but are very useful and convenient. They make the disassembly much smoother, allowing the tension to be removed from the slackline without using the ratchet. Having a soft release ensures greater longevity to your material and allows you to apply high stresses in a slackline without the fear of having to open the ratchet later.